The Conduit Bush Socket
The Brocket (also known as the conduit bush socket) is a very low-profile socket designed specifically for electrical conduit bush connectors and works with your existing 1/4" drive tool set. Available in 20mm and 25mm sizes, tested and developed on most UK suppliers of bush connectors by real Electricians. The standard Brocket is supplied in anodised aluminium and is also available in stainless steel for high duty applications.
Add an extension bar to the conduit bush socket!
The conduit bush socket makes accessing the bottom of trunking or the bottom of an enclosure easy! When it's hard to work in tight spaces already, the Brocket is a great help with accessibility.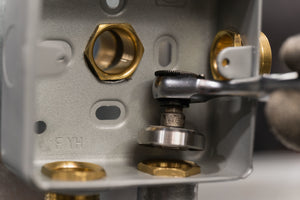 The conduit bush socket is perfect for obstacles!
With many different standard 1/4 inch drive ratchets and drives available this makes the Brocket very versatile. The conduit bush socket can work around obstacles.
The conduit bush socket is perfect for tight spaces?
Most ratchets have a small degree of operation, some up to 80 teeth, that's 4.5 degrees! The conduit bush socket really helps in the tight space working environment.
"An awesome tool"
This tool is a game changer for all installs. With bushes now being softer and thinner using grips or a wrench just crushed or splits the bush along with creating a rough edge. But this tool applies even pressure all round so no tool marks or breaking. Being able to attach this to anything that can have a 1/4" head makes it very versatile. Helped all our installs of conduit for time and ease.

Joe Jones - AEC
The Brocket is a great tool that all electricians who use 20mm or 25mm brass bushes should have in their tool kit. Better than any Bush spanner I have used and you can get to a great tightness or even undo the tightest of bushes without slipping off.

Glen Westbrook - AJES
Had one of these in my tool bag for a while now, well more in my pocket, comes in handy so much.  So easy to get in trunking with a small palm ratchet spanner. Makes doing up brass bushes with ease and without squashing or splitting them.  Having a 1/4" drive makes it usable with pretty much anything.

Billy Bryant - BB Electrical
PRODUCTS IN STOCK NOW!
Please use the links below to access the Brockets from our online reseller, using Amazon and ebay you can get the products next day !!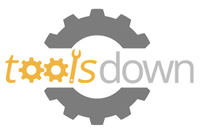 STANDARD RANGE OF THE CONDUIT BUSH SOCKET
PREMIUM RANGE OF THE CONDUIT BUSH SOCKET
The Brocket - The Conduit Bush Socket in Action!
So much better than a bush spanner or bush wrench!
Creating The Brocket - Conduit Bush Socket
The Conduit Bush Socket is built with precision.